Celebrating Day of the Dead in Oaxaca with Daniella Woolf
Honoring friends, family and ourselves and those that have gone before us
Have you been downsizing? Are you in the de-acquisition phase of your life? Thinking about what you will leave for your family to sort through? Looking at boxes of old photos and wondering about the stories that went with them? Do you wish your departed loved ones were still here to tell you the stories?
The incomparable Daniella Woolf has. In the midst of her own recent downsizing, she has been looking through lots of photos, clothes, and mementos. One of the things she misses the most about her long-departed Mom and Dad are the stories they told, which are now gone. She can no longer ask them about the farm they grew up on. She can't ask them "who is this person in the photo, how did you know them and what was their relationship to you?"
This has motivated her to create a book that contains photos of people who have made an impact in her life. Someday, her stepchildren or nieces and nephews may be curious about her. They know that she is a colorful character, but they don't know her stories or the significance and influence others had on her life. Unless she does something about that now, when she is gone her stories will go with her. Her project includes a photo (or collage) of each important person in her life, and writing a paragraph or two about them.
The festive Day of the Dead week in Oaxaca, is the perfect time and setting to work with your personal artifacts and create meaningful new ways to display them. Experience the beauty, caring and humor with which the Mexican people celebrate their rites of communion between the living and the dead. With the backdrop of this vibrant culture surrounding us and filling our free evenings, we will celebrate our own history and traditions, while learning more about this very colorful and meaningful tradition in Oaxaca.
Using paper, photos, fabric, and thread as primary art materials we will make our own ofrenda (altar) and a book of our friends, family and those who made a difference in our lives. We will tell stories both visually, orally, and in writing and honor our loved ones (and ourselves). Some might be inspired to make wearables that honor our ancestors, for example cutting and weaving your Dad's favorite painting shirt or the apron that he wore for barbecuing. Your creation may bring laughter and tenderness, as you remember events and anecdotes from your personal history. Working with photos of people who have been in our life and sharing the stories we remember, we will create a living keepsake of family treasures.
In Daniella's own work as an artist, she has used family artifacts to create art pieces and installations. Some things she has made as memory keepers include:
Just Checking - an installation using her mom's bank checks
A necklace of her mother's shredded credit cards
Core Sample - a 13 foot column composed of 2" squares of her mom's bank statements and checks
Her mother's sewn recipe cards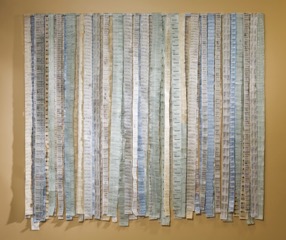 You may have noticed that there has been no mention of encaustic wax. This is a new workshop for Daniella, one that she hopes will intrigue and excite you.
About the organizers: My amiga, Ana Elena Martinez who lives in Puebla, and I have been taking groups to Mexico for over 18 years with Culinary Adventures, Inc. so we know a lot of people in Oaxaca with whom we have developed long standing friendships. We will visit some of them, enjoy their food, and stay in our friend's lovely B&B.
Las Bugambilias, a family owned and run B&B led by the beautiful matriarch, Emilia Arroyo Cabrera is our home base. Seeing what Emilia wears each morning is a visual treat for a bunch of artists as are the place settings at our breakfast. The motto of Las Bugambilias is that "we do not receive hosts, we receive friends." Emilia and her family and their staff truly do make you feel as though their home is yours. Here are some pictures from our last trip.
This trip starts October 25 and ends November 3, 2016 in the city of Oaxaca, Oaxaca, Mexico. The cost of the trip is $3200 and is based on double occupancy (two beds/room) and limited to 12. It includes:
workshop with Daniella
hotel accommodations at Casa Las Bugambilias
breakfasts and lunch beautifully and organically made for us by the staff of Bugambilia's (there will be one lunch and one dinner on your own)
welcome reception & fiesta
visit to local cemetery
special Day of the Dead performances
visit to markets
cooking class with specific dishes for Day of the Dead
walking tour
visit to museums
free time to explore
farewell dinner at Origen with a menu chosen just for us
visits to local artisans
a new art tribe
The price does not include airfare to/from Oaxaca or transportation from the airport which is approximately $30. A nonrefundable $1,000 deposit reserves your participation with the balance due June 1, 2016. Installments can be made for the remaining balance. There are no refunds or exchanges at any time for any reason. We wish we could compensate people for unforseen circumstances (injury, family emergency, etc., ) but we have costs already incurred to reserve the retreat venue We strongly recommend you purchase travel insurance.
If you have any questions, please use the contact form below. We hope to see you in Oaxaca for what will be truly a once-in-a-lifetime experience.